All i want is 2 be Ur first thought in d morning,,,and,,,,d last call at night.....???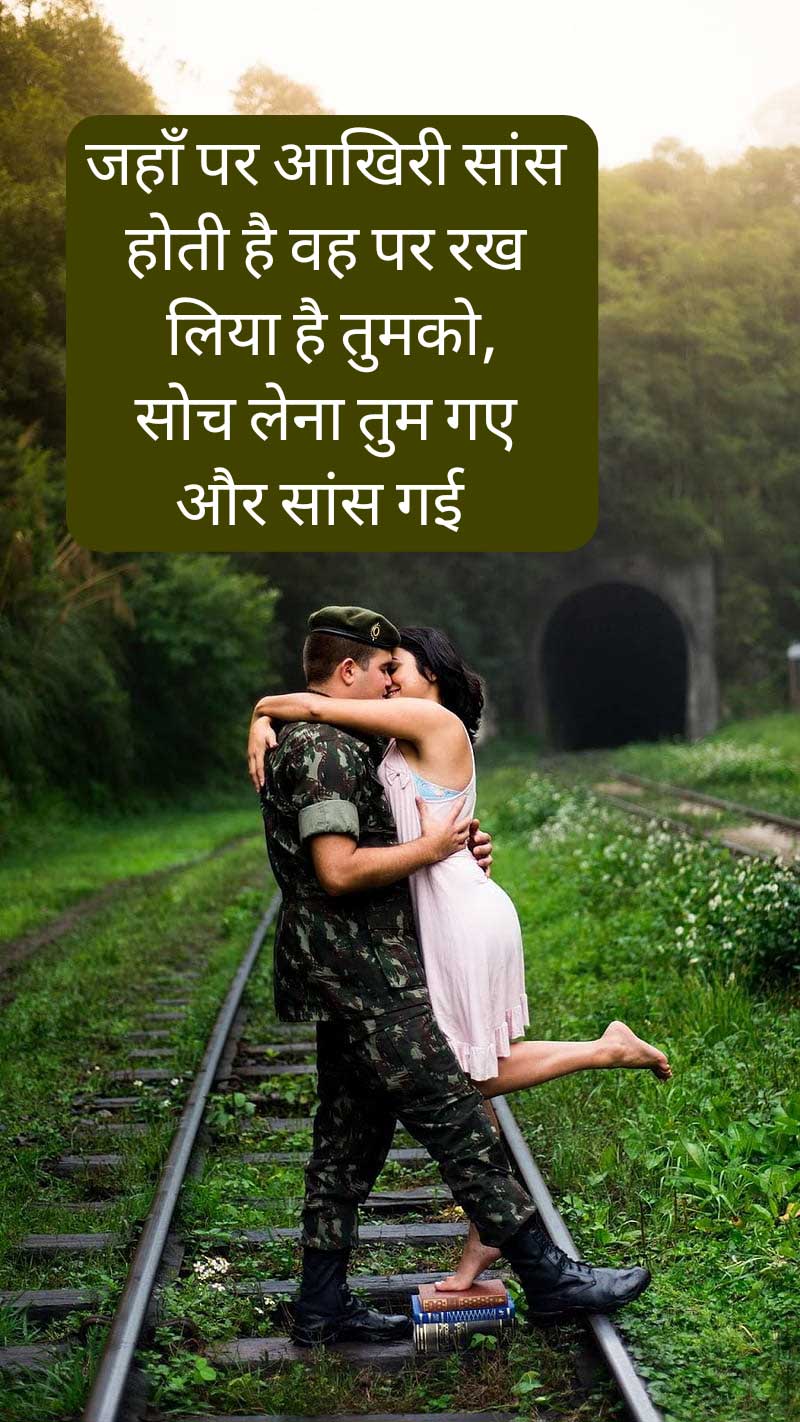 सीधी तरह से मेरे होते हो या,,,
जाकर मिलूं उस बाबा से
जो कहता है...
"24 घंटे में आपका प्यार कदमों में"
सुनो,,
रंग लो मुझे तुम अपने रंग में,,
रहना मुझे है अब तेरे संग में।।
जरूरत नहीं फिक्र हो तुम,
मेरे खामोश लबों का जिक्र हो तुम।
Na hogi kisi aur se, itani Mohabbat ye mera Vaada hai
kyonki is dil ko, teri Jarurat had se bhi Jyaada hai
Our love story is like the water of rains. ',',',',',','
This love runs with the blood in every vein.
Keep travelling within me,
Keep passing with every breath..
तुम मिले तो क्यों लगा मुझे
खुद से मुलाकात हो गई
कुछ भी तो कहा नहीं
मगर ज़िन्दगी से बात हो गई

* Dil ko chu lene wali shayari images for girlfriend boyfriend ke liye *
मैंने तो देखा था बस एक नजर के खातिर
क्या खबर थी की रग रग में समां जाओगे तुम
क्या बतायें हमारी निगाह में क्या हो तुम
खुदा का डर है वरना कह दूँ खुदा हो तुम
जिनका मिलना मुक्कदर में नही होता
मोहब्बत भी उनसे कमाल की होती है
मोहब्बत की महफ़िलों में खुदगर्ज़ी नहीं चलती
कम्बख़त मेरे ही दिल पे मेरी मरज़ी नहीं चलती
हल्की हल्की सी हंसी साफ़ इशारा भी नहीं
जान भी ले गए और जान से मारा भी नहीं
न जाने मेरा ये दिल कहा खो गया,
तुझे पहली दफा देखा,
और तेरा ही हो गया..
प्यार, मोहब्बत, आशिक़ी,
ये सब बस अल्फ़ाज़ ही थे,
लेकिन जब तुम मिले मुझे ज़िंदगी मे,
इन अल्फाज़ो के मायने ही बदल गए..
न होगी किसी से मोहब्बत ये मेरा वादा हैं,
इस दिल को तेरी जरूरत हद से ज्यादा हैं..
#love sms for her
You are angel.
You are jewel.
You are noble.
You are marvel.
You are special.
You are lovely doll.
You are cutie-pie.
You are glamour girl.
You are hot number.
You are eye-catcher.
You are raving beauty.
You are cover girl.
You are dream girl.
You are showstopper.
You are saxpot.
You are perfect picture.
You are one of a kind.
You are the treasure that I seek.
You are the pleasure that I wish.
You are the leisure like bliss.
You are the aim I want to reach.
*whatsapp love status lines message*
💘ILOVEYOU. I wrote it with no spaces so there's no room for anyone else.
YES, I profess, I affirm, as long as I live and breathe, I will be with you. 💕
Everlasting L😍VE is just 3 words away....I Love You 💑
Yôu àre thè ßèst 👑 thing that's èvèr bèèn minè.
I feel paradise when I am in your arms. 💖
I awake with your name on my lips every morning.
You belong to my sweet dream in every night.
I wrap you around all of my thoughts.
You are my dream girl. You are amazing.
Forever in my Heart. 💗 You are my everything.
Bahut khubsurat unka har andaaz hai,
Haqiqat hai ya khwaab hai,
Khushnaseebon ke paas rehte hain wo,
Mere paas to bas unki meethi si yaad hai....................!!!
Craziest lines by a lover-
girl who mad in love with her
Boy-friend:
"My love for you has no boundries, even to hell I follow you…!"
I Need You Like a Heart Needs a Beat !!
Jab Safed Suit Pe Laal Bindi Lagati Ho,
Kasam Se Ambulance Najar Aati Ho,
Wo Toh Ghaylo Ko Lekar Jati Hai,
Aur Tum Ghayal Kar Ke Jati Ho.
Rag-Rag mein is tarah se sama kar chale gaye,
Jaise mujh hee ko mujhase Churaakar chale gaye,
Aaye the mere Dil ki pyaas Bujhaane ke vaaste,
Ik Aag see vo aur laga kar chale gaye.
Uthati hain Ibaadat ki khushbuen kyo mere Ishq se
Jaise hi mere Hoth ye....Chhu lete hain tere naam Ko!
Love Sms
✨ I don't BeliEvE in lOvE at FirST SiGht ? Because I BelIeVe in LoVe at EverY sIGHt.....
✨ The English letters begins with  B C,
Counting Numbers begin with 1 2 3,
Music begins with Sa-Re-Ga-Ma,
Worship start with Ohm ॐ
and LoVe begins with YOu and Me
Love is unbelievably unpredictable.
Love is always unconditional.
Love is more exciting the anything else.
Love is not always your will.
It is all about what you feel.
Dekhi Hazaron Mehfilen par ye Fiza kuch aur hai,
Jalwe dekhe Hazaron par unki Adaa kuch aur hai,
waise to jaam hain hazaron, par unki Dosti ka Nasha kuch aur hai..........................! !! love sms
तेरा एक मैसेज आने से सुधर जाती है तबियत मेरी ..
बताओ ना तुम इश्क़ करते हो या इलाज़!
Tera 1 sms message aane se sudhar jaati hai tabiyat meri...
batao na tum ishq karate ho ya ilaaz!
Kuchh yoon mili nazar ki baaki sab nazarandaaz ho gai.
गणित पढ़ते-पढ़ते वर्षों बीत गये
तेरी आँखों में जब झाँका
तब जाना सब शून्य है।
ख़्वाब तुम्हारे ही रहेंगे
हमे भरोसा है हमारे आँखों पर।
हमने जब भी रब से गुज़ारिश की है
तेरे चेहरे पर हँसी की सिफ़ारिश की है।
ना जन्नत मे, ना ख्यालों मे,
ना ही किसी जमाने मे..
सुकून दिल को मिलता है
हमें तुमसे नजरें मिलाने मे
Jab koi itna khas ban jaye,
Uske bare main hi sochna ehsas ban jaye
toh mang lena khuda se use jindagi k liye,
isse pahle k wo kisi aur ki sans ban jaye.
Ruth jao kitna b mana lenge
Dur jao kitna b bula lenge
Dil aakhir dil he sagar ki ret to nahi
K naam likh kar usse mita denge
1 lover send love sms to beloved in TIME-MODE
Main ne hamesha tumaara 7:00 diya,
Tum bhi Mera 07:02,
Ham 02:09 ko Hamesha 01:07 Rahana hai..,
*
*
*
*
Iselie mujhe chhodne ki galti 02:12 na karana…!!
Kaho Tu Phool Ban Jaon,
Tumhari Zindagi Ka Ek Asool Ban Jaon,
Suna Hai Rait Pai Chal K Tum Mehak Jatay Ho,
Kaho To Ab Ki Bar Zameen Ki Dhool Ban Jaon,
Bohat Nayab Hoty Hain Jinhain Tum Apna Kehty Ho,
Ijazat Do K Main Bhi Iss Qdar Anmool Ban Jaon...
Teri pyaari si muskaan me apani khushiyaan sametti hoon,
Teri narm chhooan se jaise indradhanush hi chhooti hoon,
Tujh me ab main jeeti hoon,
Needon ko chhodkar baahon ko odhkar,
Jaise khud hi sihar uthati hoon,
Tujh me ab main jeeti hoon.
Like the waves rise up in ocean.
Such is the way my eyes rest on you.
Come let me forget everybody in love.
Your love runs with the blood in every vein.
Let me paint the world as your picture.
No one in this world, can take place of you.
Let me travel within you and your feelings. 💑
Let me pass in your every breath.
Let me listen your heart beats. 💓
Let me love ❤ you like never before.
Let me love 💘 you more.
Har dum Yaad rakhenge tumhe COLOURS ki tarha,
Har pal Bakhabar Rakhenge AAJ TAK ki tarha,
Har pal Entertain Karenge SONY MAX ki tarha,
Par mujhe Ignore mat karna DOORDARSHAN ki tarh
tod do kasam agar khayi hai, kabhi yaad kar lene mein
kya burai hai, yaad unko kiye bina reh bhi to nahi pate, dil mein jagah jo unhone kuch aisi banai hai................!!!
Tera_Khyaal
Teri_Talab
Teri_Chaahat
Teri_Aaraju
Tu hi Tu hai,
Mere dil ke chaman me....
Teri_chaahat mein to main sab kuchh loota doonga......
Mohabbat kaise ki jaati hai duniya ko dikha doonga.
Mere dil ke har divaar par, tumahaari tasveer hai...!
Tere hath ki kash main wo lakeer ban jaun Kash main tera
muqaddar teri taqdeer ban jau Main tujhe itna chahun k tu bhool jaye har rista Sirf main hi tere har rishtay ki tasweer ban jaun Tu aankhain band kare to aaun main hi nazzar Is tara main tere har khuwab ki taabeer ban jau
A boy saw his Gf sitting hands in hands wid anothr boy.
He cam home n msg hs gf
"I saw ur duplicate in d cofe shop 2day"
Luv n trust hv no Limits!!
Very cute:
A boy & her gal were standing in front of a mirror
The gal asked, "What do u c?"
The boy smiled and said, "The rest of my life"…..
BF msg 2 his Gf:
Baby Sorry 2 Disturb u.
can u send Me Ur Photo?
Its Urgent
Serious matter

"we r playing cardS & Ive Lost my Queen"
A touchng fight…!
BOY- I want to end our relationship..I am going to return you everything you gave me…!
GIRL-ok then let's start with love…
Most romAntic line:
A boy told his girlfriend- Your eyes are just too
beautiful!

D girl replied- yes,they r beautiful,only bcoz u stAy in
dem.
As i look back in my life, I Remember Tears i Cried
Jokes i laugh @ Things i lost & Misd by
Bt Dere is 1 thing i nevr Regret Its D day
"JAB WE MET"
*Cutest confession ever by a lover 2 his love*
"When i Cry, i see U in my Tears
But,
I Clean my Tears, so that No One else can see U.
If I could bring back Memories
I would bring the first day i kissed u
I look u in the eyes and felt love..
thanks god an angel came into my life!
I couldn't become her tears when she cried neither her smile when she laughed..
But she become my breathe upon which I live..
Cute lines by a girl who fell in love:
"He stole my heart & I'm planning to take a revenge…
I'm going to steal his last name…
Life is a story written by Gods hand..
I do not know how you got into my story..?
But I pray you stay in it,
Until God writes my last chapter.
BF-I Love when u cry badly..
GF-Why is it so ?
BF-Bcoz dats d only moment u hug me
the most possible tightest way u can!!
tu hi bata ai dil tujhe samjau kaise,
jise chahta hai tu use nazdik lau kaise,
u to har tamnna har ehsas hai vo mera
magar us ehsas ko ye ehsas dilau kaise .....
Kabhi Tum Galatfehmi Me Rehte Hó
Kabhi Tum Uljhan Me Rehte Hó
Kitni Jagah De Di Hai Dilme
Tum Waha Kyu Nahi Rehte Hó..!
Hum To Samjhe Thay Tere Deedar Se
Dil Ko Sukoon Aa Jayega Par
Ye Nahi Tha Ki Ye Dil Aur Bekarar Ho Jayega..!
Kagaz Bhi Hamare Pas Hai
Kalam Bhi Hamare Pas Hai
Likhu To Kya Likhu Aye Sanam
Ye Dil To Tumhare Pas Hai..!
Zulm Ka Zarf Aazmana Hai
Darmiyan Apne Ye Zamana Hai
Meri Ankhon Me Aake Bas Jao
Bada Mehfooz Ye Thikana Hai..!
Mehak Jati Hai Meri Rooh Is Ehsaas Se
Ki Kahi Kareeb Hi Hai Tu..!
Tujhko dekhenge sitare to Zia maange ge
Aur Pyaase teri zulfon se ghataa maange ge
Apne kande se dupatta na sarakne dena
Varna buddhe bhi jawaani ki dua maange ge
Anjaan Is Gam Se Koi Reh Nahi Sakta
Koi Sabar Karta Hai Koi Seh Nahi Sakta
Mohabbat To Har Dil Ko Ho Jaati Hai
Lekin Koi Izhaar Karta Hai Koi Keh NahiSakta..!
Meri chaahatein tumse alag kab hain,
Dil ki baatein tum se chhupi kab hain,
Tum saath raho dil me dhadkan ki jagah,
Phir zindagi ko saanso ki zarurat kab hai.
Protect her, love her, kiss her, hold her, smile with her, laugh with her.
But don't make her fall if you don't plan on catching her.
I'm tired of being your number one, let me just be your only one.
Meri Yaadon Ki Kashti Uss Samundar Mein Tairti Hai;
Jiss Mein Paani Meri Apni Hi Palkon Ka Hota Hai!
First dates are awkward;
First kisses are heavenly;
First love is irreplaceable;
And first heartbreaks are unforgettable.
Dear sweetheart, always please remain my first and the last love!
Kaash Unko Kabhi Fursat Mein Yeh Khayal Aa Jaye;
Ke Koi Yaad Karta Hai Unhey Zindagi Samajh Kar!
Ulfat Mein Kabhi Yeh Haal Hota Hai;
Aankhen Hasti Hain Magar Dil Rota Hai;
Mante Hain Hum Jisse Manzil Apni;
Humsafar Uska Koi Aur Hota Hai!
Túmhe Bhúla Nahi Sakta Itna Sàmàjh Lö
Túm Ho Sirf Mere Itnà Sàmàjh Lö
Is Jànàm Me Nà Sàhi Agle Jànàm Me
Pààkar Rahuga Tumko Itna Sàmajh Lö
Very Lovable lines 4 lover
When saying ur gf 2 U
.
.
.
.
.
"Tum Na Ekdum Pagal Ho"
" Are You Crazy"
Zulfon may teri hai meri Jannat basi,
har gam ko chupaa lati hai teri ye Dilkash hansi..
Meri her Yaad main teri Surat hai Basi,
Jo tum mil jao to meri dunya main Aa jaye dilkashi..
Silsila ulphat ka chalata hi rah gaya,
Dil chaah mein dilabar ke machalata hi rah gaya,
Kuchh der ko jal ke shmaan khaamosh ho gai,
Parvaana magar sadiyon tak jalata hi rah gaya..!!
I am not a writer to write love sms,
love messages, love poetry, love shayari to win your heart.
I have written your name on my heart for rest of Life.
Zaruri to nahi ke insan pyar ki murat ho,
Zaruri to nhi ki insan achha or khubsurat ho
Par sab se sundar woh insan hain,
Jo aapke sath ho jab aapko uski zarurat ho..
24 alphabet could write most beautiful sentences is-
* I Love you *
* I'm falling in love with you *
* Buddy Be Best Friend for Life *
* You stolen my heart *
What is your choice reply me....
4 stages of having a Crush
1. Staring at her
2. Thinking about her
3. Stalking her profile on social media- Facebook, Whatsapp, Twitter, Instagram
4. Messaging and Calling.
एक उमर बीत चली है तुझे चाहते हुए,
तू आज भी बेखबर है कल की तरह।
| Home | love-sms-in-english | love sms for girlfriend in English | love msg | love msgs | lovely sms | love quotes | love shayari | love sms | love u sms | loving sms | luv sms | love messages | lovely sms | romantic shayari |